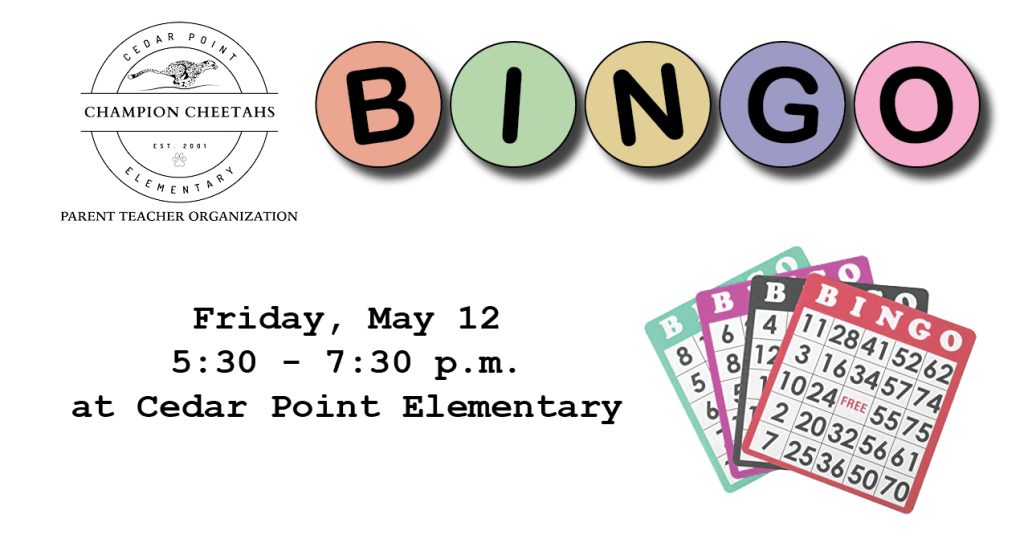 Come join us for family fun at our Spring BINGO Night on Friday, May 12! 10 rounds of BINGO, with first game beginning at 5:30 p.m., lots of fun prizes, special blackout prizes for our first adult and child winners, discounted CPES water bottles, concessions and more! Doors open at 5 p.m.
Cedar Point's own Cheetah Café, hosted by Mrs. Bridget Martin and students, will also be on site selling delicious homemade goodies for 1 ticket each.
BINGO card 10-packs (one pack per person for all 10 rounds), reusable dot markers (yours to keep) and concession tickets (for snacks and drinks) will be available for purchase at the door for $1 each.
OR skip the line with pre-ordered packages (see below order form).
Dinner is served! Papa Johns pizza will be available by pre-order only (see below order form) for $10 per large pizza.
Skip-the-line and pizza pre-order forms and payment must be received by Thursday, May 4.